Healthcare Providers
Resources For Medical Professionals
Healthcare is evolving, and NeuPath Health Inc. is transforming how Chronic Pain is treated. From our in-clinic approach to our virtual care and patient self-management digital tool, we believe in a patient-centric model of care and putting the patient at the center of everything we do. Patient Experience is our key priority and our team of staff is committed to delivering on our Patient Care & Service Standards every day. We are also investing in developing educational content to assist our patients and our referring provider network. As Canada's leader in Chronic Pain management, we are dedicated to improving the quality of life for Chronic Pain patients.
Get In Touch
NeuPath Centres For Pain and Spine are Canada's largest network of pain clinics, with 14 locations across Ontario and Alberta, and expanding. We are an integrated health care provider utilizing technology and interdisciplinary care to help restore function for people suffering from pain, chronic pain, spinal injuries, sports-related injuries, and concussions. We offer a range of treatments including non-opioid alternatives.
Interdisciplinary Expertise

Our healthcare team is comprised of of Pain Physicians, Physiatrists, Medication Management Physicians, Athletic Therapists, Nurses and Anesthesiologists.

Comprehensive Treatment

Our clinics offer care services that cover a wide range of injuries and conditions. We integrate non-opioid alternatives for chronic pain management, health and pain assessments, spinal injury treatment, sport medicine and consussions*

Self-Assessments Available

We offer a Rapid Access Program at our Toronto, Brampton, Scarborough, and London locations, allowing you faster access to a pain physician.

Coverage For Care

All initial assessments, and most services are covered by your provinical health insurance plan (OHIP, AHCIP, etc.). Some services are also eligible for third-party coverage and reimbursement.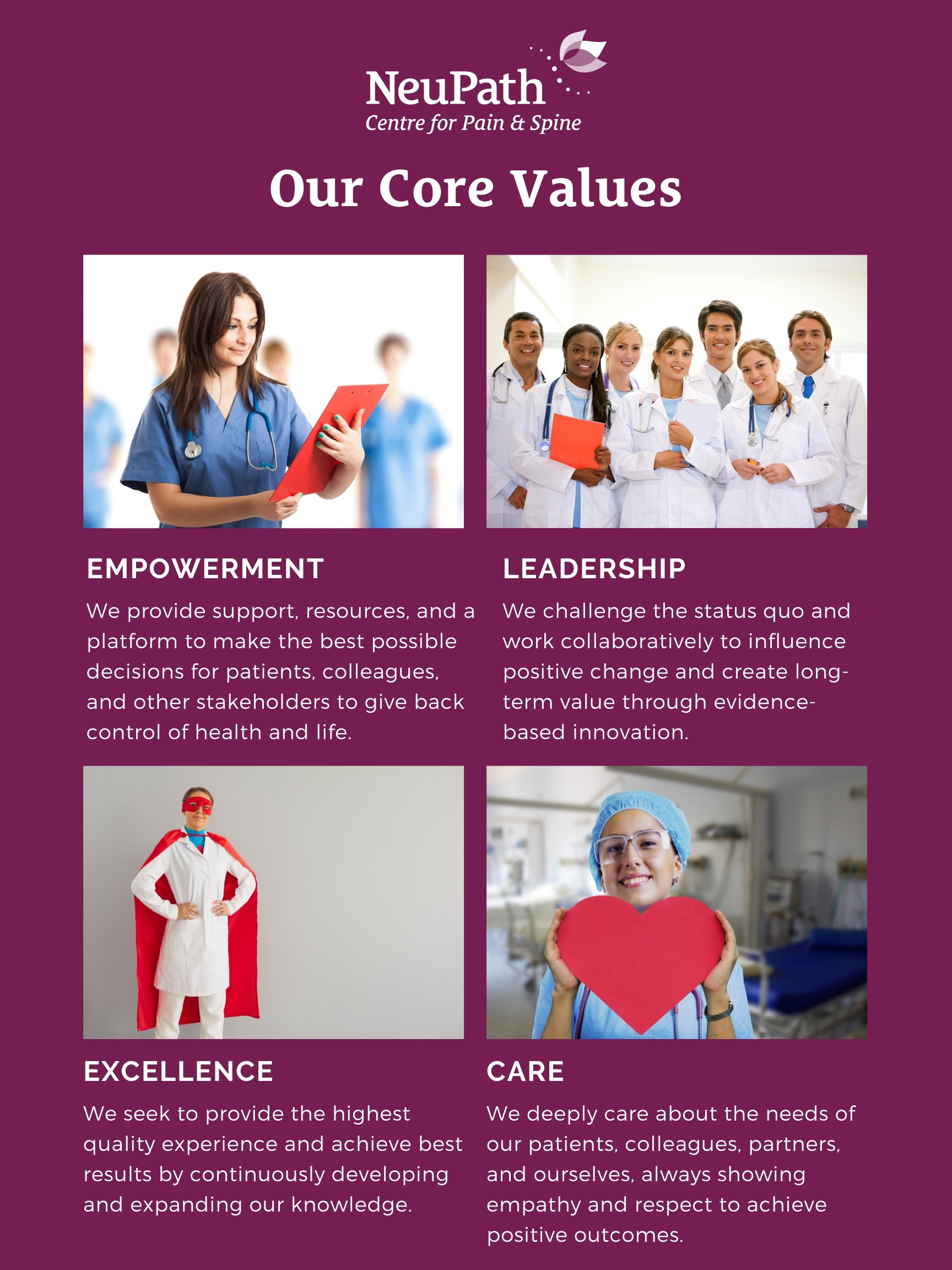 working together
Referring A Patient & Patient Care
NeuPath Health Inc. welcomes the opportunity to partner with you in your Patient's Pain Care.
New patients interested in the specialized healthcare services of our clinic may receive a referral from their Primary Care provider, Dentist or Allied health practitioner. We also offer a Rapid Access Program at our Toronto, Brampton, London, and Scarborough locations, allowing you to see a pain physician without a referral.
Once your completed referral form or Rapid Access assessment is received, it is sent to our Patient Onboarding Department. Once triaged, you will be booked with a NeuPath Physician for a consultation.
Learn About What We Treat
PROVIDER RECRUITMENT
Five Great Reasons To Join Our Team of Health Care Professionals
Join our network of over 120+ health care providers. NeuPath is expanding and looking to partner with Pain Physicians and other healthcare providers to join our premium network of multi-disciplinary Pain Clinics across Canada. With virtual care and a patient self-management app, you can choose your balance of flexible clinic or remote patient care options. We are also hiring a variety of virtual health care provider roles for our Provider Network. Click below to see all current openings.
Search All Job Openings
Leadership & Support To Drive Better Patient Outcomes.
14 State Of The Art Clinics, Offering Interventional Therapies such as Ultrasound or Fluoroscopic Guided Nerve Blocks and Radiofrequency Ablation.
A Commitment To Evidence-Based Practice And Advancing Standards Of Care.
Full Regulatory, Back Office & Marketing Support with Premium Turn-Key Administrative Services.
Forward-Thinking Leadership with A Commitment To Education & Development.
Tools and Resources Available
Pain is often difficult to explain and hard to understand - but we can help.
Chronic pain is a complex condition driven by a number of biological, behavioural / psychological, and social factors. At NeuPath, we aim to acknowledge the multifaceted experience of living with Chronic pain by developing tailored treatment plans that are patient centered and developed through authentic inter-professional collaboration among our licensed healthcare providers. We are also committed to providing educational tools and resources for patients and referring providers.